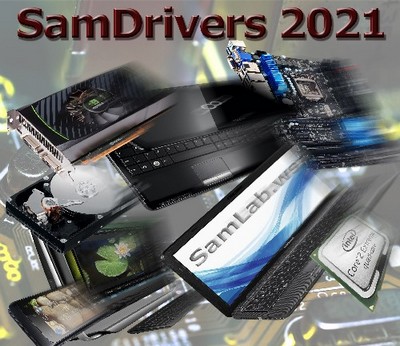 SamDrivers 21.11 - Collection of drivers for all Windows Full ISO | File Size 28.7 GB
Collection of drivers from SamLab for all 32-bit and 64-bit Windows operating systems, from Windows 2000 to Windows 10, including server platforms.
As a shell-installer, to auto-detect your hardware and automatically install the necessary drivers, specialized utilities were used:
DriverPack Solution 16.20 Plus / Drivers Installer Assistant 8.02.20 / Snappy Driver Installer 1.20.9 / DriverPack 17.10.14 / driver backup shell Drivers Backup Solution 3.90.21
The collection includes the most current drivers for the release date, collected personally by SamLab. Do not confuse this package with Bashrat driver packs - these drivers are newer and more stable.
SamLab, being a member of the Bashrat team for a long time, has the opportunity, knowing about all the problems of similar driver packages, to create its own set, the most complete and conflict-free!
Install drivers for touchpads and other input devices from DP_Touchpad_XXX driver packs only under personal control and only in the DPS shell
All these devices have the same ID - control what you put by the touchpad company in the name of the pack and by the laptop vendor in the name of the driver folder
More the same identifiers are found in drivers for sound cards and tuners - install only those drivers of which brand your device is
Interface language :
MULTi / Russian
System requirements :
Having a couple of gigabytes of free space on the system hard disk for unpacking temporary files
Key features of the collection:
Supports 32/64-bit operating systems Windows XP / Vista / 7/8 / 8.1 / 10
Maximum set of drivers for PCs and laptops on one disk
One-touch automatic installation of drivers and programs
Express diagnostics of your computer / laptop hardware
Backing up the drivers installed on the system
Friendly and responsive multilingual interface
Ability to run the program from any media
Driver packs included in the collection:
DP_Biometric_21120.7z
DP_Bluetooth_21120.7z
DP_CardReader_21120.7z
DP_Chipset_21120.7z
DP_LAN_Intel_21120.7z
DP_LAN_Others_21120.7z
DP_LAN_Realtek-NT_21120.7z
DP_LAN_Realtek-XP_21120.7z
DP_MassStorage_21120.7z
DP_Misc_21120.7z
DP_Modem_21120.7z
DP_Monitor_21120.7z
DP_Printer_21120.7z
DP_Sound_CMedia_21120.7z
DP_Sound_Conexant_21120.7z
DP_Sound_Creative_21120 .7z
DP_Sound_IDT_21120.7z
DP_Sound_Intel_21120.7z
DP_Sound_Others_21120.7z
DP_Sound_VIA_21120.7z
DP_Sound_Waves_21120.7z
DP_Sounds_HDMI_21120.7z
DP_Sounds_Realztek_21120.7z
DP_Telephone_21120.7z
DP_Touchpad_Alps_21120.7z
DP_Touchpad_Cypress_21120.7z
DP_Touchpad_Elan_21120.7z
DP_Touchpad_Others_21120.7z
DP_Touchpad_Synaptics_21120.7z
DP_TV_Aver_21120.7z
DP_TV_Beholder_21120.7z
DP_TV_DVB_21120.7z
DP_TV_Others_21120.7z
DP_Vendor_21120.7z
DP_Video_Intel-NT_21120.7z
DP_Video_Intel-XP_21120.7z
DP_Video_nVIDIA-NT_21120.7z
DP_Video_nVIDIA- XP_21120.7z
DP_Video_nVIDIA_Legacy-NT_21120.7z
DP_Video_nVIDIA_Server_21120.7z
DP_Videos_AMD-NT_21120.7z
DP_Videos_AMD-XP_21120.7z
DP_Videos_AMD_Legacy-
NT_21120.7z
DP_Videos_Others_21120.7z
DP_WebCam_21120.7z
DP_WLAN-WiFi_21120.7z
DP_WWAN-4G_21120.7z
DP_xUSB_21120.7z
DP_zAndroid_21120.7z
DP_zUSB3_21120.7z
DP_zVirtual_21120.7z
Included in the program:System
DirectX +
CoDeC Pack +
AOMEI Backupper +
Flash Player +
Shockwave Player -
RuntimePack
Windows Libraries +
Microsoft Visual C ++
.Net Framework -
Silverlight -
Java Runtime -
Browsers
SlimJet (Chrome) +
Opera +
Mozilla Firefox +
File
7-Zip -
CDBurnerXP -
WinRAR +
Viewers
Foxit PDF Reader +
FastStone Image Viewer +
Players
AIMP +
PotPlayer +
Communication
QIP -
Skype +
Internet
TeamViewer -
uTorrent +
Antivirus
360 Total Security -
Tencent PC Manager -
Miscellaneous
Classic Shell -
Punto Switcher -
Checksums:
File: SamDrivers_21.11.iso
md5: 2d7780358da2e96f8b193a6f3d399700
Buy Premium Account From My Download Links And Get Resumable Support & SUPER Fastest Download Speed
https://uploadgig.com/file/download/37e1fD1fbD8b41a9/SamDrivers_21.11.part1.rar
https://uploadgig.com/file/download/0e9Ada7ec70Bf41C/SamDrivers_21.11.part2.rar
https://uploadgig.com/file/download/83c246d45b086b57/SamDrivers_21.11.part3.rar
https://uploadgig.com/file/download/6B28acce84bB9B98/SamDrivers_21.11.part4.rar
https://uploadgig.com/file/download/11883615cda02fdA/SamDrivers_21.11.part5.rar
https://uploadgig.com/file/download/2aeb08d7dC213B6D/SamDrivers_21.11.part6.rar
https://rapidgator.net/file/d57e0b9cd6cd98ce71a33c1998ef7390/SamDrivers_21.11.part1.rar.html
https://rapidgator.net/file/a23434366fed9a3a31e86438262c9baa/SamDrivers_21.11.part2.rar.html
https://rapidgator.net/file/17b8f8a47a709904c60b0222f9e71b5f/SamDrivers_21.11.part3.rar.html
https://rapidgator.net/file/2900aa3a48577d46f80ba9c8639be6fb/SamDrivers_21.11.part4.rar.html
https://rapidgator.net/file/473589f926c7cae0098cbee7059504f4/SamDrivers_21.11.part5.rar.html
https://rapidgator.net/file/e5df244d33b71e58a87cd42fe14e7d5c/SamDrivers_21.11.part6.rar.html