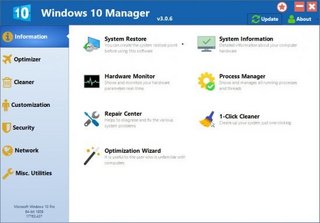 Windows 10 Manager 3.5.8 RePack & Portable by KpoJIuK | File size: 28.6 MB
language : Russian, English and others
Treatment : not required (the installer has already been treated)
System requirements :
Windows 10 (32/64-bit)
Description :
Windows 10 Manager is an all-in-one utility for Microsoft Windows 10, it includes more than forty different utilities to optimize, tweak, clean, speed up and restore your Windows 10, helps to make your system faster, troubleshoot your system, improve stability and security, personalize your copy of Windows 10, it can meet all your expectations.
Additional Information:
Information
Gets detailed information about the system and all its devices; helps you find the installation key for Windows, Office products; shows all the detailed information about running processes and subprocesses on your machine; Windows 10 Manager offers automatic cleaning of your system with just one click.
Optimizer
Adjust your system in order to increase the speed of starting and closing windows; tune your hardware to improve system performance; Optimize Task Schedule is used to eliminate unnecessary system tasks.
Cleaner
Find out which files or folders are taking up space on your disk; find and clean up unnecessary files to increase hard disk space; Duplicate Files Finder can scan your computer for files with the same size, name and modification time; Registry Cleaner will quickly check your system registry and fix entries with incorrect links, automatically removing incorrect entries; Registry Defrag repairs and renumbers your system registry to reduce application response times and registry access times.
Individual customization
Check what starts when you turn on Windows; create shortcut icons on the control panel using the Jump List quick launch tool; customize the Windows 8 boot menu; edit context menus with the right mouse click; customize your desktop, menus, control panel and alert settings; customize the look of your system.
Protection
You can improve the settings of the desktop, menus, security when logging in, as well as a huge number of hidden features of the system, disable system updates and error reporting; close and restrict access to disks, determine which applications cannot run on your computer; encrypt / decrypt files and open them for general access, change the location of system folders; Privacy Protector is able to ensure your privacy, eliminating all traces of your activity; generate many random passwords in one go.
Network
Optimize the speed of your Internet connection, configure all public objects; adjust your Internet Explorer with ease.
Mixed utilities
Browse the collection of Windows utilities; split and combine any files.
Features of the program:
shows detailed information about all computer components, hardware, user system and office products;
displays running processes and open threads;
has options for optimizing and configuring Windows operating parameters;
has built-in modules for cleaning the registry, hard drive, etc .;
increases the speed of loading and shutting down the PC;
allows to increase the performance of running multimedia programs;
configures network connections;
allows you to customize the appearance of the interface and some functions for managing the desktop, menus, services and services, Internet Explorer, etc.
Using Windows Manager you can :
Speed up system startup and shutdown
Search for unnecessary and duplicate files and delete them
Fix errors in the registry
Defragment the registry
Disable system updates and error reporting
In addition, there are many operations available related to customizing the appearance of the system :
Boot screen can be changed
Change the contents of context menus
Set automatic wallpaper change in the background, set up notification messages ...
What's new:
https://www.yamicsoft.com/windows10manager/product.html

Features of RePack:
Type : installation, unpacking portable (PortableWares)
Languages : russian, english, multilanguage
Activation : DFoX
Additional : import Settings.reg
Command line parameters :
Silent installation : / S / I
Unpacking portable : / S / P
Do not create shortcuts on the desktop: / ND
Do not create shortcuts in the Start menu: / NS
Select installation location : / D = PATH
The / D = PATH parameter should be specified as the most recent
For example : Windows.10.Manager.v3.0.4.exe / S / I / D = C: MyProgram
Note !!! Upon completion of the installation, you will be prompted to visit the repack author's website. We press Yes or No at will.
Homepage
https://www.yamicsoft.com
https://uploadgig.com/file/download/49AB5daCa5d9e987/Windows_10_Manager_3.5.8_RePack__Portable_by_KpoJIuK.rar
https://rapidgator.net/file/01141b9e7925a62e97d86beb954bd01a/Windows_10_Manager_3.5.8_RePack_(&_Portable)_by_KpoJIuK.rar.html