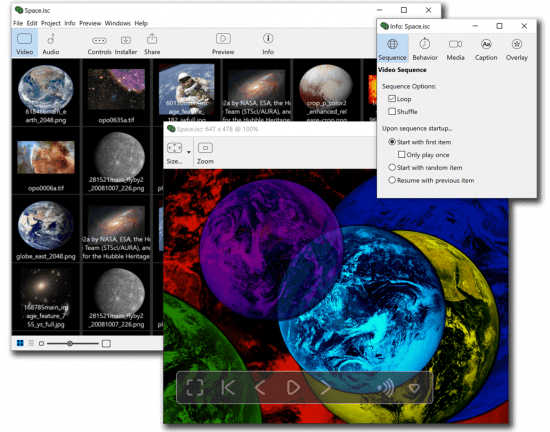 Size:
70.98 MB |
Languages:
N/A
iScreensaver makes screensavers for both Macintosh and Windows using Image, Movie, Video (MP4/H.264), Live Photo, and 3D Model (GLB) files. iScreensaver Designer is truly cross-platform : edit on Windows. Create once! Distribute across Windows 7 to 10. iScreensaver is the world's only cross-platform screensaver builder.
What's New in iScreensaver Designer 6:
Modern Compatibility:
Screensavers build for Windows 7, 8, 8.1 to 10.
Simple Installers:
Creates full-featured installers/uninstallers for Macintosh and Windows. Screensavers can be previewed from the installer without installing, and can be used immediately after installation without restarting.
iPhone Live Photos: [New for 6]
Supports modern short-form movies created with iPhone Live Photos.
High Resolution Retina Displays: [Improved for 6]
Supports all 4k / UHD monitors, with images sizes up to 4096x4096 pixels.
Panorama Images: [New for 6]
Supports megapixel 360 degree (spherical) and 240 degree (cylindrical) panorama image formats.
Multiple Screen Support: [New for 6]
Screensavers can play back on all monitors. Users can use the screen saver settings window to select which screens will be active.
Movies as Screensavers: [Improved for 6]
Play movies as a screensaver - full support for HTML5-compliant MP4 / MPEG4 H.264 / AVC formats.
3D Model Support: [New for 6]
Import and animate 3D models using GLTF 2.0 (GLB) format. Import beautiful, high quality, fast motion animations from open-source 3d applications like Blender.
Multimedia / Mixed-media Screensavers:
Sequence together any number of images, videos, movies, animations.
Text Captions: [Improved for 6]
Add translucent styled text overlays, animated with XYZ motion effects. Text is retina-resolution (on supported systems).
Image Overlays: [Improved for 6]
Add floating images with transparency, with full XYZ motion effects and colorization.
Gatekeeper and AuthentiCode Support:
With additional third-party software and your own code-signing certificate, authors can digitally sign their screensaver installers. Details.
64-bit Support: [Improved for 6]
Edit screensavers and deploy on 64-bit versions of macOS and and 32 and 64-bit versions of Windows.
Multiple Audio Tracks:
Include a background audio soundtrack sequence that runs independently from the foreground video sequence.
Optional On-Screen Controls: [Improved for 6]
"Heads Up Display" (HUD), on-screen playback controls for both authors and end users. An optional "scrub to exit" to wiggle your mouse or trackpad and exit the screensaver even with the HUD enabled.
Bumpers:
Choose a sequence item to be played once every time the screensaver starts.
HUD Navigator:
Thumbnail icons let you jump to any item within the screensaver.
Password Protection:
Works with all standard lock-screen security features of macOS and Windows.
Screen Resolution:
Multiple design modes to develop screensavers for various aspect ratios. Preview high resolution screens in smaller sizes during development.
Live Preview During Installation:
Preview the screensaver content without installation.
Easy Uninstall:
You can deactivate and remove the software from within the screensaver itself, and in Windows the screensaver shows up in the 'Add/Remove Programs' control panel.
Audio Controls:
Set Volume and Mute from either the Control Panel or the on-screen HUD controls.
Screensaver Wake-up Options:
Wake your screensaver based on keyboard, mouse click, or adjustable level of mouse movement sensitivity.
Release NotesiScreensaver version 6.7 improves compatibility with Windows 11, macOS 11 Big Sur, macOS 12 Monterey, and the new M1 "Apple Silicon" CPUs.
Important: Due to new macOS bugs, screensavers that were working may stop working when a user updates to macOS Monterey, or macOS Big Sur 11.4 or higher. Therefore, all iScreensaver authors are advised to upgrade iScreensaver Designer, re-build, and re-release their screensavers for their macOS customers.
* iScreensaver 6.7 has been tested with the latest releases of macOS (10.14.6 Mojave, Catalina 10.15.7, Big Sur 11.5.1, and Monterey 12.0 beta 4), Windows 10 (64 bit, Version 1903 through 21H2), and Windows 11 (21H2 beta 22000). iScreensaver Designer, the built screensaver installers, and installed screensavers are fully compatible with Apple's M1 macs running under Rosetta emulation.
Changes and Improvements:
* macOS 11 (Big Sur) and 12 (Monterey): Fixed a problem which could lead to the following symptoms:
- Installed Screensavers would show a blank screen.
- In Designer, the Preview window would open as a blank window, and thumbnail icons could be missing.
* Photos.app integration improved, adding compatibility for macOS Big Sur (11) and Monterey (12).
* On macOS, caching improvements reduce the amount of disk space used inside ~/Library/Caches/
* Windows 11: Visual glitches in Designer fixed.
* Windows: iScreensaver Designer now properly installs to the 64 bit Program Files folder
* Screensaver preferences: Added new Highest and Lowest mouse sensitivity settings
iScreensaver for Windows - System Requirements:
For Screensaver Operation:
- Windows 10 or 11 (32 or 64 bit) fully updated (through version 20H2): supported.
- Windows 7, 8, or 8.1: support depends on the hardware and software of the individual machine as well as the author's choice of assets (audio-visual content) and can not be guaranteed, but most content will work as expected.
- CPU: Core 2 Duo or later (core i3 1.5GHz or greater recommended).
- RAM: 2GB RAM or more.
- Disk: 100MB free disk space.
- Software Update: fully updated Internet Explorer 11 engine with jаvascript enabled. IE must be at patch level 11.0.110 or higher.
- GPU: Dedicated or Integraded with 128MB VRAM, with vendor-specific Video drivers.
For Authoring Screensavers with iScreensaver Designer:
- Windows 10 or 11 (64 bit) version 1809 or later (21H1 or later recommended).
- CPU: Core i3 or later (2GHz or greater recommended).
- 4GB RAM (8GB or more recommended).
- 500MB free disk space.
- Software Update: fully updated Internet Explorer 11 engine with jаvascript enabled. IE must be at patch level 11.0.110 or higher.
- GPU: Dedicated or Integraded with 128MB VRAM, with vendor-specific Video drivers.

Download from RapidGator


Download from NitroFlare