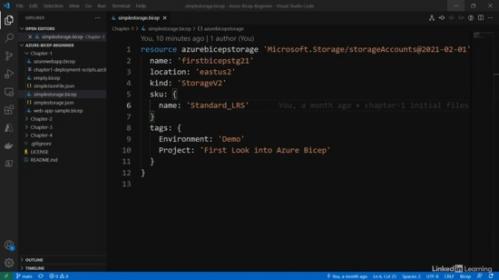 Linkedin Learning - Azure Bicep First Look-XQZT
English | Size: 434.07 MB
Category: Tutorial
Are you looking for a simpler, more efficient way to author infrastructure resources in Azure? If so, you're in luck. Azure Bicep is here to help. Bicep is a new domain-specific language (DSL) for deploying resources in Azure. It's also a much cleaner, more concise language than ARM JSON-cloud admins and DevOps professionals, rejoice!
Join instructor Elkhan Yusubov for a first glimpse of this recently released Azure service. Learn about how Azure Bicep simplifies the authoring experience by utilizing a more specific, declarative syntax. Explore how to develop better infrastructure-as-code solutions for Azure Resource Manager (ARM) templates, as well as how to convert your old templates into Bicep to modernize your existing Azure environment. Forget about the verbose, long-winded expressions that typify syntax in JSON. Azure Bicep is taut, reliable, and modular, and it's easy to maintain and reuse, which makes it the preferred new language for many Azure developers.
Earn a sharable certificate
Share what you've learned, and be a standout professional in your desired industry with a certificate showcasing your knowledge gained from the course.
Buy Long-term Premium Accounts To Support Me & Max Speed
If any links die or problem unrar, send request to http://goo.gl/aUHSZc