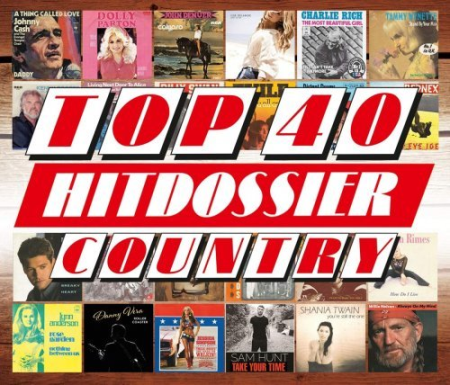 FLAC (tracks+.cue, artwork) | 4h 56 min | Genre: Country | 1.9 GB
Disc 1
1. Sam Hunt - Take Your
2. Shania Twain - You're Still The One
3. Danny Vera - Roller Coaster
4. LeAnn s - Can't Fight The Moonlight
5. John Denver - Calypso
6. Olivia Newton-John - Hopelessly Devoted To You
7. Kenny Rogers - Coward Of The County
8. Dolly Parton - You Are
9. Smokie - Living Next Door To Alice
10. Lady Antebellum - Need You Now
11. Jim Reeves - Distant Drums
12. Lucille Starr - Colinda
13. Billy Swan - I Can Help
14. Lynn Anderson - (I Never Promised You) A Rose Garden
15. Roger Whittaker - I Don't Believe In If Anymore
16. Pussycat - Mississippi
17. The Byrds - Mr. Tambourine Man
18. Tammy Wynette - Stand By Your Man
19. Exile - Kiss You All Over
20. The Tumbleweeds - Somewhere Between
21. Sandy Posey - I Take It Back
22. Rednex - Cotton Eye Joe
Disc 2
1. Ilse DeLange - Next To Me
2. Charlie Rich - The Most Beautiful Girl
3. LeAnn s - How Do I Live
4. Johnny Cash & The Evangel Temple Choir - A Thing Called Love
5. Marie Osmond - Paper Roses
6. Glen Campbell - Rhinestone Cowboy
7. Roger Whittaker - The Last Farewell
8. The Judds - Why Not Me
9. The Bellamy Brothers - Let Your Love Flow
10. Freddy Fender - Before The Next Teardrop Falls
11. Bonnie Tyler - It's A Heartache
12. Roy Orbison - You Got It
13. Rick Nelson And The Stone Canyon Band - Garden Party
14. Billy Swan - Everything's The Same (Ain't Nothing Changed)
15. Dr. Hook & The Medicine Show - Sylvia's Mother
16. Elvis Presley - My Boy
17. Dolly Parton & Kenny Rogers - Islands In The Stream
18. Julio Iglesias & Willie Nelson - To All The Girls I Loved Before
19. BZN - Banjo Man
20. Rednex - Old Pop In An Oak
21. Henk Wijngaard - Hé Suzie
22. The Walkers - There's No More Corn On The Brasos
Disc 3
1. Johnny Cash - A Boy Named Sue (Live)
2. Crystal Gayle - Don't It Make My Brown Eyes Blue
3. Billy Ray Cyrus - Achy Breaky Heart
4. Albert West - Tell Laura I Love Her
5. Sommerset - Another Lonely Night
6. Elvis Presley - Way Down
7. Carlos Santana & Willie Nelson - They All Went To Mexico
8. Bobbie Gentry - Ode To Billie Joe
9. John Denver & Fat City - Take Me Home, Country Roads
10. The Buffoons - Arizona
11. Tammy Wynette - D.I.V.O.R.C.E.
12. Roger Miller - King Of The Road
13. Poco - Call It Love
14. Tony Joe White - Groupy Girl
15. Mary MacGregor - Torn Between Two Lovers
16. Loggins And Messina - My Music
17. Rita Coolidge - We're All Alone
18. Billie Jo Spears - Blanket On The Ground
19. Kris Kristofferson - Why Me
20. The Mavericks - Dance The Night Away
21. Wynonna - Tell Me Why
22. Hugo Montenegro & His Orchestra - The Good, The Bad And The Ugly
Disc 4
1. John Denver - Thank God I'm A Country Boy (Live)
2. Dolly Parton - Here You Come Again
3. Willie Nelson - Always On My Mind
4. The Bellamy Brothers - If I Said You Had A Beautiful Body (Would You Hold It Against Me)
5. Juice Newton - Queen Of Hearts
6. Bob Dylan - Lay Lady Lay
7. Jim Reeves - (There's) A Heartache Following Me
8. Anne Murray - You Needed Me
9. Charlie Rich - Behind Closed Doors
10. Albert Hammond - It Never Rains In Southern California
11. Jessica Simpson - These Boots Are Made For Walkin'
12. Dan Fogelberg - Longer
13. Lorne Greene - Ringo
14. Anouk & Douwe Bob - Hold Me
15. Jim Croce - I'll Have To Say I Love You In A Song
16. The Major Dundee Band - The Longer The Distance
17. Alabama - Feels So Right
18. Lynn Anderson - You're My Man
19. Lyle Lovett - Simple Song
20. Piet Veerman - Arms Of Mary
21. Kris Kristofferson & Rita Coolidge - Lover Please
22. The Charlie Daniels Band - The Devil Went Down To Georgia
On hitdossier.nl the Dutch Top 40 Foundation pays attention to the rich history of the Top 40. In more than 50 years Top 40 has yielded so many fantastic hits that for some music fans it will be a celebration of recognition and for others a first introduction with hits from a bygone era. The 4CD box Top 40 Hit Dossier Country contains a magnificent overview of the greatest country & western hits that have ever reached Top 40. From recent songs like SAM HUNT '' Take
Your '' and DANNY VERA '' Roller Coaster '', to classics like SHANIA TWAIN '' You're Still The One '', LEANN S '' Can't Fight The Moonlight '' and JOHN DENVER '' Calypso '' , they are all there. But of course our Dutch country artists such as ILSE DELANGE, THE TUMBLEWEEDS, THE WALKERS, DOUWE BOB, SOMMERSET and even HENK VIJNGA are not to be missed besides the great legendary country stars like JOHNNY CASH, DOLLY PARTON, KENNY ROGERS, CHARLIE RICH, WILLIE NELSON and TAMMY WYNETTE.
DOWNLOADuploadgigrapidgatornitroflare