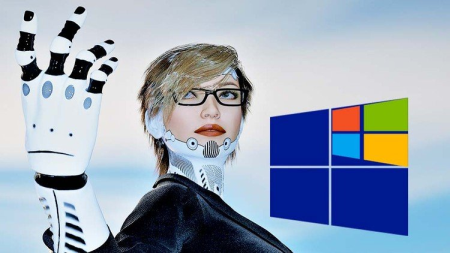 MP4 | Video: h264, 1280x720 | Audio: AAC, 44.1 KHz, 2 Ch
Genre: eLearning | Language: English + .srt | Duration: 63 lectures (11h 4m) | Size: 3.35 GB
Prepare for MCSA certification exams.
IPv4 & IPv6, VPN, Direct access, WAP, Hyper-V failover & replication, Multiple DNS & DHCP relay agent, SDN, DFS, IPAM
IPv4 addressing scheme which will help you to troubleshoot network communication.
Get ready to crack any interview and apply for jobs in this domain as an Admin "Study the entire series".
High availability options for DHCP - Failover and Relay agent.
Students will understand the concepts by perfog Labs as every section is supported by many LABS.
Students will gain confidence in terms of troubleshooting and error handling because we will manage that together.
How to integrate IPv6 in our Network.
DNS, Stub zones, Adding child domains, Forward and Reverse lookup zones
IPAM to deploy & integrate Active Directory Domain Services, DHCP, DNS, and the Network Policy server to manage your existing infrastructure.
Implementation of various Remote Access technologies like VPN, DirectAccess, routing and Web Application proxy
How to make remote connection secure by introducing Radius Server and SSL
Implement Distributed File System (DFS) , Windows BranchCache
Nested Virtualization with Hyper- V
Hyper- V Live Migration and replication for high-performance and Availability
NIC Teaming feature
Overview of Software Defined Networking (SDN) to centrally configure and manage your Network infrastructure.
It is highly advisable to attend at least Course 1 from this Windows server 2019 series to build your Network from Scratch. In this course we'll focus on implementing networking skills using our existing Network.
Have a PC or laptop with 8 - 16 GB Ram to perform Labs smoothly, i5 or i7 CPU support, SSD,64-bit OS.
You need to have basic knowledge about core networking-infrastructure components like routers and switches.
Experience working with the Windows client operating systems.
Experience with VMware, although if you have used any other hypervisor, you won't face any problem.
This course is divided into following major topics:
A- IPv4 & IPv6 in multiple subnets.
B- The use of DNS, DHCP in multiple domains and branch networks.
C- Deep understanding of advance private cloud techniques by practicing Hyper-V Fail-over and replication.
D- IPAM lab to manage IP address, DHCP and DNS in enterprise network.
E- Build network remote access labs by using VPN, DirectAccess and WAP.
F- Set a High availability design for file servers using DFS and FSRM in addition to branch cache.
G- Learn about Network controller, your first step in Microsoft SDN.
***I would again like to mention for students directly joining this course, kindly check Course 1 : Set Windows Server 2019 Network, to build your Lab and prepare the infrastructure. In this course we will not teach how we created the virtual environment. ***
Course contents are as follows:
Section 1 : We will deal with IPv4, Subnets, VLSM, and troubleshooting IPv4 using PowerShell.
Section 2 : We will spend some with DHCP and learn how to design a DHCP which is going to provide its services to another network through DHCP relay agent, in addition to DHCP fail-over.
Section 3 : Will talk about IPv6, the main Lab is ISATAP, the routing between IPv4 and IPv6 network. Also, learn how to configure IPv6 scope in DHCP.
Section 4 : Advance DNS labs covering different scenarios based on multiple domains, type of records, forwarders, root, stub-zone, zone replications and much more.
Section 5 : IPAM which can be used to ease the management of IP address in enterprise network.
Section 6 : Pretty large topic, we will learn how to build a web application proxy "WAP" with a remote gateway, so our client can use the service of ADFS to access remotely to internal network.
Section 7 : DirectAccess, one of tools available to establish a 24*7 connection with devices currently located on public network.
Section 8 : VPN, learn how to build your Microsoft VPN, supporting it by using radius server and NPS.
Section 9 : Achieve redirection with file server and provide high availability using DFS and FSRM, we will also cover branch cache to learn how to provide offline documents for clients.
Section 10 : We have an advance lab of Hyper-V, where we'll learn nested virtualization and how to provide Hyper-V fail-over and replication to reduce the maintenance and approach reliable service.
Section 11 : Network controller, the 1st step in Microsoft SDN, a lot of theories and PowerShell to be presented in the installation phase of network controller cluster and nodes.
By finishing this course you will be ready to study the next course which is Windows server 2019 Storage.
All professionals who want to be ready for their MCSA 2019 certification exams.
This course is for students who want to take a full path of learning windows server 2019 (Bner --> Professional), this is the 4th course in 10+ courses of Windows Server 2019 series.
Infrastructure or System Administrators who have basic understanding of Networking and who are looking to gain advanced networking knowledge.
Network Admins who have experience with previous versions of Windows server and want to learn about new networking technology changes and functionalities in Windows Server 2019.
DOWNLOADuploadgigrapidgatornitroflare