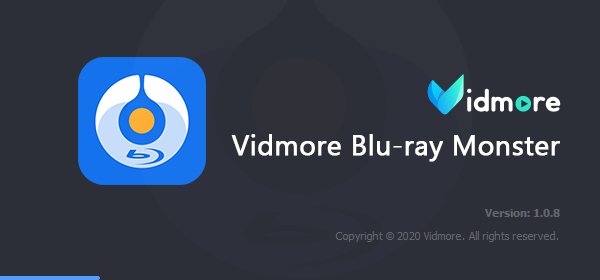 File size: 62.7 MB
With Vidmore Blu-ray Monster, you can easily convert your Blu-ray movie to a video or audio file that can be stored anywhere. It also allows you to rip the full Blu-ray disc to a folder with its original structure, 6x faster speed and no quality loss.
All-in-One Blu-ray Ripping SolutionsRip Blu-ray to Any Video & Audio Formats, Any Devices
Vidmore Blu-ray Monster offers you the complete solutions to rip Blu-ray movies. You can find a wide range of output formats, as well as optimized presets for different smartphones, tablets, TVs, etc. Equipped with the best ripping technology, this software enables you to watch your Blu-ray collection on any device and share the movies in the way you like. Any Blu-ray discs, regardless of region restriction, can be converted with this powerful tool.
Rip Blu-ray to Video
Convert and rip Blu-ray discs to all 4K and 1080p video formats, including MP4, AVI, MKV, MOV, WMV, FLV, M4V etc.
Extract Audio from Blu-ray
Extract audio streams from your favorite Blu-ray movie and save them into common audio formats like MP3, M4A, FLAC.
Convert Blu-ray to Device
Rip Blu-ray discs to compatible formats for different devices, such as iPhone, iPad, Apple TV, Samsung Smartphone.
Various Editing OptionsEdit and Personalize Blu-ray Movie Instantly
• Cut out any clip from your Blu-ray movie
A handy built-in video cutter makes the Blu-ray ripping software easier to use, when you only want a small clip from your Blu-ray movie. The trim function lets you cut out any scenes from the main movie, and save them separately or merge them into a new video file. You only need to set up the start and end time of each clip. Then the software will do the rest job for you.
• Merge titles of a Blu-ray to a video file
A Blu-ray disc always contains different titles including the main movie, trailer, BTS. If you want merge two or more title of the Blu-ray into a single video file, Vidmore Blu-ray Monster also comes in handy. You only need to select the titles you want and then activate the merging option. This software will automatically merge and convert them into a new video file.
• Adjust the effects of the Blu-ray movie
Is the old Blu-ray disc too dark or is the sound of the movie too low? Vidmore Blu-ray Monster offers you easy options to adjust these effects, such as brightness, contrast, saturation and hue. The customized filters allow you personalize the Blu-ray movie instantly. Besides, you can also increase the sound volume up to 200%, so that you can enjoy a better sound effect.
• Rotate & clip the Blu-ray movie as you wish
Sometimes, you may want to rotate or flip the movie picture of your Blu-ray from left to right to make it easier to watch. Here comes the rotate function into play. In the editing window, you're able to turn the video picture 90 degrees to the left, or to the right. It's also possible to flip or mirror the video both horizontally and vertically. This will fix angle problems of some old movies.
• Crop any area from the movie picture
When there're black edges around the movie picture, you can simply use the crop function to solve the problem. With this Blu-ray ripper software, you can cut out any area of the movie picture and zoom it into a full picture. In this way, you can get rid of the black edges around the video, or focus on the main part of the movie without any quality loss.
• Add watermark to the output Blu-ray movie
If you want others to know that this Blu-ray copy is made by you, you can simply add a watermark to the output video. This Blu-ray software allows you to use a text (your name) or an image (a logo) as watermark, and place it anywhere on the movie picture. Then you can always see the watermark when the movie is played on any devices.
RELEASE NOTES
• official site does not provide any info about changes in this version.
System Requirements:
Windows 10, Windows 8.1/8, Windows 7
HOMEPAGE
https://www.vidmore.com/

Download From Rapidgator

https://rapidgator.net/file/417845964a970876b3d0cc4b6fce9574

Download From Nitroflare

http://nitroflare.com/view/9B318BFB0A7C3DE/BaDshaH.Vidmore_Blu-ray_Monster_1.0.16_%28x64%29_Multilingual.rar