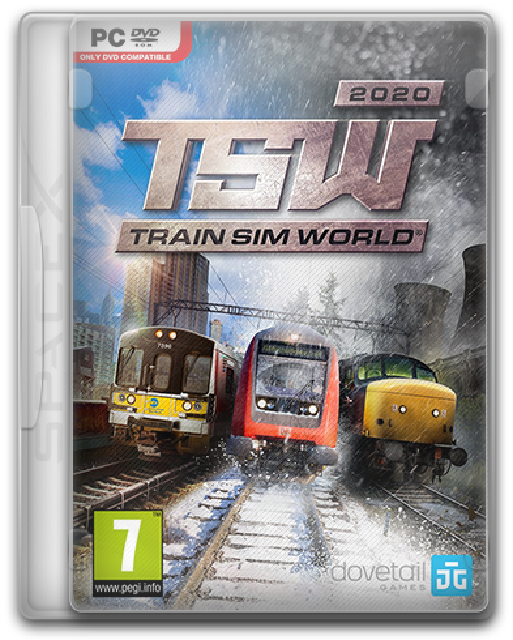 Train Sim World: 2020 Edition [v 1.0 + DLCs] (2018) PC | RePack by SpaceX |Size: 14.28 GB
Release year: 2018
Genre: Simulator, Train, 3D
Developer / Publisher: Dovetail Games
Interface Language: EN / FR / DE / IT / ES / PL / CN +Russian
Language: EN / FR / DE
Publication Type: RePack
Tablet: Sewn (CODEX)
Description
:
Train Sim World 2020 is an exciting simulator offering interactive control cabs, detailed locomotives, real routes and long hours of gameplay. Embark on a journey with the new Train Sim World: 2020 Edition - there you will find everything you need to get both basic and advanced skills in managing locomotives, performing passenger and freight transportation, special tasks and much more.
Features:
BECOME A MACHINER
You are a driver who was invited to work on the Great Western Railway, one of the busiest railways in the UK. Your skills, endurance and ability to concentrate will pass a rigorous test, because you have to follow the schedule and deliver thousands of passengers without delay.
EXPERIENCE A REALISTIC SIMULATOR The
locomotives in Train Sim World, running the SimuGraph® engine, convey not only the appearance of their real prototypes, but also the physics of processes under the hood, cab interiors, sounds, and even the driving experience. And all this - complete with a collection of real railway lines from all over the world.
SUBURBAN MESSAGE
Train Sim World®: Rapid Transit lets you test yourself as a commuter train driver on one of Germany's most famous S-Bahn lines. Drive the DB BR 1442 Talent 2 train and transport passengers along the S2 line through the scenic landscapes of historic Leipzig.
Features of repack
Based on the Steam license | 2020 Edition (ID: 530070)
Game Version: v1.0 build 550
EN / RU Installer
Starting the game from the desktop
Changing the language in steam_emu.ini
Audio Quality 100%
100% video quality
Train Sim World®: Main-Spessart Bahn: Aschaffenburg - Gemünden Route Add-On
Train Sim World®: Long Island Rail Road: New York - Hicksville Route Add-On
Train Sim World®: Northern Trans-Pennine: Manchester - Leeds Route Add-On
Train Sim World®: Northeast Corridor New York
Train Sim World®: CSX GP40-2 Loco Add-On
Train Sim World®: Great Western Express
Train Sim World®: Rapid Transit
System Requirements:
Operating system: Microsoft® Windows® 7/8/10 (64 Bit)
Processor: Intel® Core ™ i5 3.2 GHz
RAM: 8192 Mb
Sound card: Audio card compatible with DirectX® 9.0с
Graphics accelerator: 2048 Mb, OpenGL 3.0
Free HDD space: 84 Gb
ScreenShots