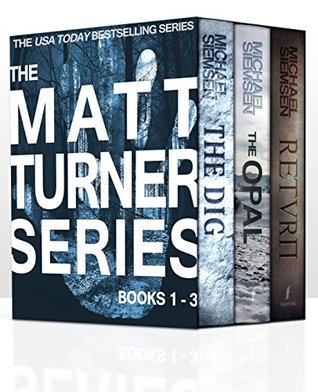 Matt Turner series (1-3) + (2 more) By Michael Siemsen
English | Size: 1.41 GB
Category: eBook
BOOK ONE - THE DIG
A mysterious woven metal artifact is found at a paleontological dig in Africa. Mystified experts, confounded by the impossible timeline they receive from traditional dating methods, call upon a stubborn twenty-something with a unique talent. Matthew Turner's gift is also his curse: whenever he touches an object, his consciousness is flooded with the thoughts and feelings of those who touched it before him, be it last week or centuries ago. It's a talent that many covet, some fear, and almost no one understands.
Despite being exploited as a child and tormented by the unpleasant experiences imprinted on him from the various items he's "read," Matt agrees to travel from New York to the forests of Kenya. There, threatened by unknown enemies, and helped by a beautiful but prickly ally who begins to understand his strange ability, his mind journeys back in geological time to make a discovery so shocking that it forces us to rewrite all human history.
BOOK TWO - THE OPAL
A Cuban logging company discovers an Egyptian opal sealed deep within a downed tree, hidden from the world for at least 1,000 years--centuries before Columbus explored the region. With his gift of psychometry, Matthew Turner seems the obvious choice to extract the gem's history, and an enemy Matt thought long gone isn't giving him any choice in the matter.
In Book Two of the Matt Turner Series, the stakes are raised higher than anything the 26-year-old has previously encountered, and the fallout will change Matt for the rest of his life.
BOOK THREE - RETURN
Matt Turner's psychic ability has granted him a window into the entirety of Earth's intelligent beings - past and present - but this gift has also been his heaviest burden. A talent like Matt's can only be kept secret for so long, and ruthless individuals desiring lost and rare items viewed him only as a prized tool.
Now, there is no more secret. Despite living a reclusive existence - unseen in five years - Matthew Turner is among the most recognized names on the planet, and wealthy collectors aren't alone in seeking the only confirmed, undisputed psychic the world has ever seen. Most people simply want his help tracking down a missing loved one. But it's something else that lures Matt out of hiding, and he knows it offers more than mere lost treasure or a priceless artifact. Some may see it as vengeance - Matt would call it justice.
For more than five centuries, Egypt's great Library of Alexandria housed all the collected knowledge of the known world. In the Third century AD, its estimated 700,000 scrolls were forever lost to fire - a loss so great, it has since come to symbolize, worldwide, the destruction of cultural knowledge.
A small length of ancient stone engraved with seemingly random symbols may reveal an alternative ending to the Library's collection, but only in the able hands of Matt Turner.
A Warm Place to Call Home
As far as he call tell, Frederick is a demon. "Born" in Virginia in the early 1980s, he hasn't a clue where he came from or why, but his irresistible desire to occupy a human body seems pretty demony to him. Plus, a number of a-hole priests have tried to exorcise him from some of his favorite bodies. Yeah, it works, but not for the reasons they think. It's just super annoying being yelled at in Latin and sometimes the priests get really, really into it, and their mouths get all frothy and spittle droplets shoot out and land on your cheek or in your eye. It's just gross. So f--k it. He leaves with a heartfelt "Enjoy the drooly meatsack!"
What those morons never realize is that once Frederick takes over a body, the previous occupant's consciousness and memories are forever erased. It's an inevitable side effect that gives Frederick pause when switching bodies, but not so much as to actually halt his ongoing enjoyment of human lives. Departures are not so much "Good lord, what have I done?" moments as much as, "Aww. How sad." Frowny face emoji - not crying face emoji. You get the point.
After a few decades exploring the world in various bodies, Frederick finds himself burnt out on the wild life, deciding he'll return to America, explore the mystery of his origin, and maybe even find someone tolerable enough to love for more than a month. In his hometown of Leesburg, Virginia, his mission bears fruit much faster than expected. He meets an enchanting woman, and her current boyfriend looks like a great foot-in-the-door. Typically, Frederick avoids maintaining a bodies' prior relationships (it requires agonizingly boring pre-research to avoid detection) but - as noted above - he's loose with the phrase "f--k it."
Exigency
19 years to get there. 8 years in orbit. "Three minutes to evacuate."
Nine brilliant scientists travel light years on a one-way trip to an Earth-like planet. Their mission is to study from orbit the two species of intelligent lifeforms on the surface. The first: an isolated people embarking on civilization and building their world's first city. The second: a brutal race of massive predators, spread thick and still growing across the dominant landmass-destined to breed and eat their way to extinction within a few centuries.
After eight years of observation, disaster strikes the orbiting station and the remaining crew are ejected not to the safety of the city, but to the other side of the planet, deep inside a land no human could possibly survive.
1 The Dig
2 The Opal
3 Return
Buy Long-term Premium Accounts To Support Me & Max Speed
If any links die or problem unrar, send request to http://goo.gl/aUHSZc