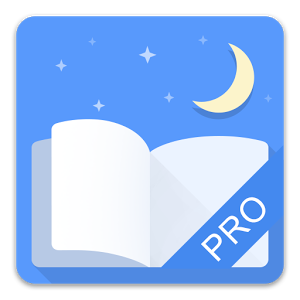 Il lettore di libri professionale per Android !!
☆ Il lettore di ebok professionale con potenti comandi e funzioni complete.
• Supporta biblioteche online di ebok e server di ebok personali.
• Leggi i libri localmente con smoth scrol e altre tonnellate di novità.
☆ Supporta epub, pdf, mobi, chm, cbr, cbz, umd, fb2, txt, html, rar, zip o OPDS, funzioni chiave:
✔ Opzioni visive complete: linea di spazio, scala di caratteri, grassetto, corsivo, ombre, colori alpha, dissolvenza etc.
✔ 10+ temi prestabiliti, che includono modalità Giorno & Notte.
✔ Vari tipi di paging: touch screen, tasti volume o anche fotocamera, tasto ricerca o tasto indietro.
✔ 24 operazioni personalizzabili (click schermo, gesti swipe, tasti hardware) applicabili a 15 eventi personalizzabili: ricerca, segnalibri, temi, navigazione, dimensione caratteri e molto altro.
✔ 5 modalità di scroll automatico: rolling blind mode; per pixel, per line o per pagina. Controllo velocità in tempo reale.
✔ Regola la luminosità facendo scorrere il dito lungo il bordo sinistro dello schermo, comandi gesto supportati.
✔ Paragrafi intelligenti; paragrafi indentati; trim unwanted blank spaces and lines options.
✔ Real page turning effect with customized speed/color/transparent; 5 page flip animations;
✔ La mia libreria: Preferiti, Scaricati, Autori, Tags; copertine libri personalizzate, ricerca, importazioni.
✔ Allineamento del testo giustificato, modalità ibernazione supportata.
✔ Disattiva retroilluminazione tasti in modalità notte.
✔ Due Pagine in landscape mode.
✔ Sincronizzare posizione lettura tramite Dropbox.
✔ Sottolineature, Annotazioni, Dizionario (Offline o Online, supporta Gogle, ColorDict, GoldenDict, ABBYY Lingvo, Fora, etc.), Traduzioni, Condividi tutte le funzioni su mon+ ebok reader.
-Opzioni aggiuntive della versione Pro:
#Senza pubblicità
#Supporto touch multi-punto
#Agita il telefono per parlare (Text-to-speech, supporto moto TTS)
#Protezione con password all' avvio
#Controlli chiave per auricolati & bluetoth
#Supporo per collegamenti ad ebok sul desktop
#Annotazioni, sottolineatura & condivisione segnalibri
#Supporta PDF
#Leggendo le statistiche
#Supporto email per problemi
#Open/Backup/Sync/Download/Upload bok files via Dropbox
-Funzioni PDF:
*Compilazione form PDF
*Evidenzitore, annotazioni, scrittura a mano
*Smart scroll lock, smoth reading experience
*Supporto modalità notturna, 6 temi pdf disponibili
*Modalità doppia pagina per schermi landscape
*Supporto vocale, auto-scroll
*Lettura statistiche, sync, disponibile animazione flip
Aggiornata
5 novembre 2022
Versione corrente
7.8 build 708002
È necessario Android
4.4 e versioni successive
DOWNLOADEASYBYTEZRAPIDGATOR